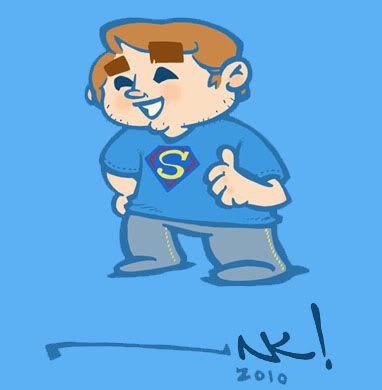 i didn't forget you, honest i didn't.
i've got a picture here to show you. it's scanned and everything.
but the new 'compose' window in blogspot seems to be too snazzy for the computers at work. which have a flash player so old it still plays frogger. ...i still play frogger. never mind.
the point is, i can't show you much right now.
the cunning may point out that i have my header attached, so why not upload my image to photobucket and then post it you say? a well conceived plan. but the same problem exists over on photobucket. flash uploader.
oh well.
say, how about a story instead?
i had a nightmare the other day.
ron, my fellow inkceller, and i had gone up for a pre-convention meeting prior to s.p.a.c.e. 2011. it was during this meet up that it dawned on me, i had no finished art for this year's convention. so just like last year i had nothing to sell! and instead of only having a table for a day (like last year) we have one for the whole weekend. i did the math in my head and i had about five days to get something done.
then the dream shifted gears to the comic i apparently finished.
it was some kind of a take on dracula, and it was pixelated and embarrassing.
in case you're wondering, ron was well prepared for the con.
how i resent him and his work ethic!