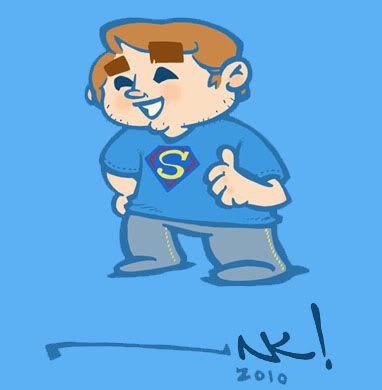 man, i tell you guys what, sometimes things all come together in a magical sort of way. my friends have hooked me up this week in ways that i would not have thought possible. if things continue as they are it's only a short matter of time until a small clan of gnomes proclaim me sort sort of deity.
my inkcell cohort and artistic partner in crime ron passed me his old computer filled to the brim with delightful programs i've been too cheap to hook myself up with, to sweeten the pot he threw in a wacom tablet. and then scant days later my rpg card playing homie dave gave me his old scanner, actually he fed me and paid me a consultation fee before giving me his old scanner.
to further abuse my good fortune i've been toying with flash on ron's old computer and watching tutorials on the laptop my brother gave me a year or so ago. to push things into overload i've had futurama playing in the distant background.
i'm in geek ecstasy!
given my obscene good fortune i pledge to update again later on today.